These mistakes are the kind that can prevent you from being able to connect with your clients clearly, efficiently, and effectively! So, today I'm partnering up with my fellow spicy marg connoisseur, my actual website designer & magic-maker extraordinaire at jennakutcher.com, aaand good friend Jen Olmstead (of tonicsiteshop.com) to walk you through six common website mistakes you might be making and the solutions you need to fix them today.
Want to watch this lesson in action? Join me and Jen for a one-time-only training and design tutorial together on this very subject! If you're wondering how you can level up your website, free yourself from "boring website syndrome," or attract more of your ideal clients with your website, then you can't miss this!
Why you NEED an impeccable website!
If you're reading this thinking you don't have the budget, time, or resources to level up your website then let me tell you a short story about why this shouldn't hold you back. When I first started, I had a shoestring budget. I had no idea how to create a website. I felt stuck, with thoughts like this swirling: "Do I have to hire a web designer? Wait, if I hire a web designer do I need to hire a programmer or someone that can code, too? Where do I even find these people?"
Honestly? When I started over a decade ago, I didn't even have a website. I had a blog. No opt-in forms, no "Contact Me" page… just a simple blog!
What I did have, though, was an understanding of the concept of branding and what my dream website was going to look like. I just needed a little help, so I hired somebody that was in design school and they created a logo and branding for me. So, I took all these new colors and fonts and typography and gave my blog a facelift. I had that website for five years. 
Then it hit me. I realized that my website was more "fit in with the crowd" than "stand out from the pack." What I had was working okay, but it didn't feel like me. I wasn't excited about it, nor did it represent what I was about and what I wanted to share with the world.
When I realized it was time for a complete brand overhaul and a fresh, feels-like-me website, I hired the previously mentioned Jen Olmstead and we went through the process of designing my new website. Jen and I talked about things like:
What would my new website look like?
What would my new website feel like?
How can we attract the right people for my brand (and get the others out and on their way to find somebody who is the right fit for them)?
6 common website mistakes you could be making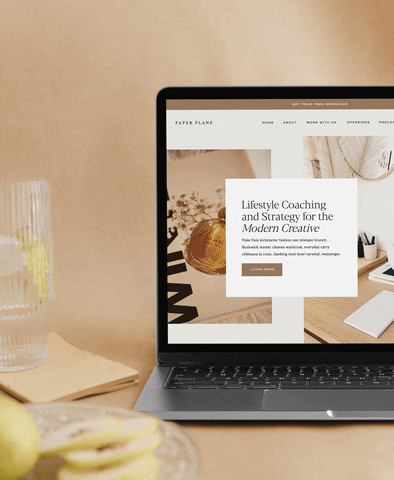 So today, you and I are going to sift through the top six common website mistakes that I see over and over again. Before we start, if you get done reading this and are thinking, "UGH, yup, my website has all of these things"—be encouraged! These little mistakes are really common and fixing them is a cinch. At the end of this, you'll know exactly what steps to take to level up today.
01. Not Creating Connection:
As business owners, it is far too easy to hide behind our products or services. We have bought into the lie that we are not interesting enough, or compelling enough, or beautiful enough, or perfect enough, or whatever that enoughness looks like in your business. By not showing yourself, you're not creating a connection.
So what does that connection need to look like? Well, if you don't currently have a beautiful bio photo of yourself, where you are straight-up looking at the camera and smiling, as a means of an introduction to who you are, then let's change that, shall we?
While you might have a really cool stock photo (or image where you look mysterious and interesting and we can see, like, half your ear), that's not going to make your viewer feel connected to anyone. People connect with people. Real people! Real faces! Let's show them the person behind the scenes that makes all of this happen.
Another miss are your bio and about me pages coming off dry and not engaging, or ones that are improperly formatted. Your bio page needs to create a connection. It needs to show people who you are so they can start putting your words in their mind, putting a face to your name, and relating to you.
Your "about me" section needs to be inviting, engaging, and create connection beyond just the product or service you offer. Reminder, your about page is the number one page people go to after your homepage. If your about page is missing you, your viewers are missing the opportunity to really connect with you. Focus on having a personal, beautiful, engaging about me page with a photo of the real you and copy that sounds like your voice.
02. Lacking a clear brand message:
What comes to mind when you think about what defines your brand? Does your website clearly express that on every single page? Your brand needs to inspire emotion. Oftentimes when we hear the word "brand," we think of things like logos, fonts, colors… but we forget to think about how a brand makes people feel.
The number one goal of a brand is to inspire something within your ideal client. You want people to visit your website, see your brand, and say "Heck. Yes. Sign me up. You are the perfect fit for me." 
At the same time, you want the people that log onto your website that are not your ideal client to think "Okay, this isn't the right fit for me."
One of the most important things when it comes to defining your brand is that you don't need to go out and hire the perfect designer and invest thousands of dollars in it. So what do you need to have a great brand? You need to have a clear direction and goal that you want your client to take. Don't get too caught up in your logo or colors that you forget about how your brand makes people feel.
Here's my number one tip for creating a great brand: create what you love.
When you do what you love, your audience will be able to tell. Not only that, but you'll attract the kind of people that love what you love. I like to call those people your ideal clients.
03. Your offering doesn't make sense:
What do your offerings look like? Are they all over the place? Are you showing too many types of work? Is your messaging clear? Are you curating your website and offerings in a way that speaks to your dream client today?

Back when I was working with Jen on my new photography website, I picked THREE weddings out of the HUNDREDS of weddings I could've put on my website. Why did I pick just three weddings when I had thousands and thousands of images I could share? 
Because those three are the ones that I enjoyed shooting the most, the ones that would resonate and connect with my ideal client the most, and the ones that showed my range and style of photography the most. 
There is a very brief window of time that you have to connect with your viewers and ideal clients. What you offer needs to resonate with them quickly and deeply. Make your offering clear by minimizing the amount that you have. Not only does this make your reader feel less overwhelmed, lost, and confused, it encourages them to take action (and take it quicker) because there aren't as many decisions they need to make and steps to sort through.
We forget that, as our business grows, so do our clients. You need to grow with them. How do you grow with your clients? By reviewing your website every few months to make sure that your content aligns with where you and your dream clients are at today.
04. Vanilla in a sea of vanilla (aka, YAWN, it's boring):
Does your website look the same as everyone else's? Think of the process your clients go through when they are trying to decide if you are the right fit for them. Your clients might have 10 tabs open with websites from others in your industry.
What happens if your site looks or feels like theirs? If you look the exact same as everyone else, what are they going to do? They're going to price shop you. Scary, right?
We hate talking about price. We hate it so much! I get it. But, if the only way that you're standing out is your price, you are just begging to be price shopped. How can you solve this?
If you are getting stuck with your website and you are consistently looking within your industry, my challenge for you today is to start looking outside of it and to start seeing what's working in other industries. 
Stop making your website try to appeal to other people in your industry. Your website isn't for your peers, it's for you and your clients. Popularity doesn't pay the bills. You need to make sure that every aspect, every facet, every button, every page of your website is speaking to your ideal client.
Let go of the fear of judgment from others in your industry and focus on your clients. Put them at the front of every decision you make and it will be so much easier to decide what your website should look like.
05. It's difficult to contact you:
Uncomplicate how potential clients and customers get in touch! Overcomplicated contact forms or not having enough places where people could reach out and contact you is a huge common website mistake.
You might be someone that LOVES all the details, so perhaps your 20 question contact form felt right when you first set it up. Truth be told, those details can come later.
Instead, you want to make your form super simple so the conversation can begin quickly and flow naturally. If your form feels more like a college application than a 1-minute form, then your visitors might be turned off from contacting you.
I want you to sit down and write out every single step that it would take for a total stranger to hear about your name, search you on social media, visit your website, contact you, and eventually sign a contract or purchase your product. 
From never hearing about you, all the way to the final sale or final commitment, what steps do they need to take in order to become a customer? This is called the customer journey and is something every brand on the planet has whether it's intentional or not.
Your website's number one goal is to make it as easy as possible for people to reach out to you.
So what should your contact form or page look like? Ask for only the most critical pieces of information that you need to learn. Name, email address, and a general message will get most brands very far.
You can always ask for more information once the conversation is started. Oversimplify your contact form and make sure that people are being invited to get in touch with you on multiple pages on your website.
06. They can't find your email opt-in/freebie:
You know I strongly believe in growing your email list. It's the best way to build a relationship with your clients and turn them into paying customers. If you aren't currently building your list, I have a ton of great resources that can get you started on that front.
Whether you already have an email list or are just starting to build yours, it's crucial that you do not bury your opt-in at the bottom of your website. Consider how you can make it as easy and inviting as possible for your website viewers to share their email address with you. 
If you have freebies or something to offer to people new to your list, then you want that front and center. To your ideal client, it will feel like they've won the lottery as they score tailored-for-them content that only you can offer (and for free)!
A great website has the offers built right into the design so that you take the viewer on a journey and know just when to invite them to opt-in. It's like when your date asks you to meet their parents. Too soon and it feels rushed. Too late and you might be wondering if they really care that much at all.
BONUS TIP! How to know if it's time for a new website:
There's a challenge that I like to call "The Mom Test." It's a simple way to find out how your website is performing for your viewers. The idea is to watch someone navigate your website, observe how they use it, and if they are having the kind of experience you were expecting them to have. It's so simple but so helpful. 
Why do I call it The Mom Test? Well, when I watch my mom use the internet it's a little different than when I watch someone from our generation use the internet. So, if she can navigate my website and have a great experience, then my clients are sure to have a great experience, too. (Sorry, mom!)
Here's the recipe for the perfect Mom Test. Invite mom or a mentor to a girl's night, pour some wine, and then casually ask her to peek at your site. As she's doing that, observe how she navigates your website and make quick mental notes on what's working and what could use a little TLC.
Feel free to ask her questions after she has gone through your website. Now you have a plan, backed by research, on what you can do to level up your customer's experience! After that, get back to your fun night, k?
See? Fixing these common website mistakes is easy-peasy.
If your website isn't passing The Mom Test, or one (all?) of the six common website mistakes rang true for you, then you know it's time for a few upgrades. Getting the website of your dreams is WAY easier than you think. And it starts with taking these little faux pas and spit-shining them up a bit.
The next thing you should do? Tune into my FREE training with TONIC founder (and one of my fav gal pals) Jen Olmstead to learn simple ways to make your site STUNNING (and high converting), in no time.
---
👉 Uh-mazing website status this way!
Hang out with me at my FREE class with my website designer Jen Olmstead!